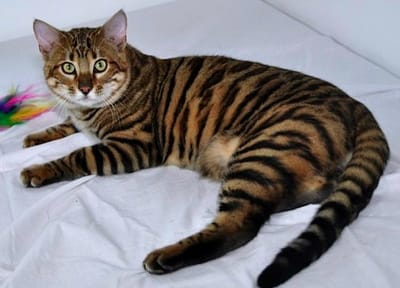 ABOUT SOUTHCLAW CATTERY

Situated in sunny Nelson New Zealand and with 20 years industry experience caring for animals we provide an experienced and loving space to raise our kittens for their future homes.
We are the only breeder in the South Island of New Zealand of these very special cats and are members of Cat Fancy NZ and The International Cat Association (TICA)

SO WHAT EXACTLY IS A TOYGER

The call of the wild right in your living room: that's the Toyger with its dramatic striped and glittered pelt. The Toyger is being bred to resemble the tigers of the wild but in a package that fits easily into the modern urban lifestyle with the same friendly nature as the domestic cat.
This medium-sized cat has the rolling gait and vivid striped patterns of the wild cats without a single drop of real tiger blood.
Toygers are highly intelligent and interactive cats that also get on well with other pets. Their intelligence means that they are easy to train and can be taught to go for walks on a leash and to play fetch some even like to play in water. Their laid-back personalities make them easy to live with and they fit easily into any household.
The Toyger is a designer breed still in development. It was founded by Judy Sugden a Bengal breeder from California and was first registered with TICA in 1993 and attained championship status in 2008.

If you think a Toyger sounds like it would be perfect addition to your family contact us now and register your interest for our next available litter.